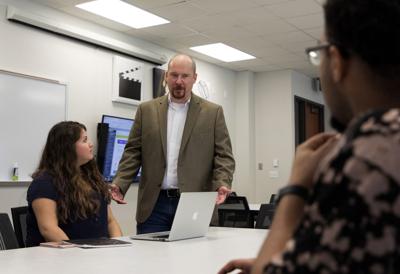 Jared Brown has always been passionate about technology.
He loves it so much that he had planned to go into general IT as a career after the completion of his associate's degree.
But along the way, one of his classes – web development – turned his head and focused his career path.
Now, he's just over a semester away from completing his bachelor's degree in web development – one of the fastest-growing areas of employment in the area – through Bellevue University's College of Science and Technology.
"Before I started at Bellevue, I had mostly dabbled in older web technologies, so it was nice to learn some new ones," said Brown, a senior from New York who is taking classes online and will graduate from Bellevue University's web development degree program next spring.
"That being said, the field of web development moves quickly, and there is always a new set of tools/technology coming out, but many of the core principles remain the same."
What makes Bellevue University's web development degree program unique is that it offers classes that prepare students to become full-stack developers – offering web development languages and skills in an in-depth degree program from an accredited university.
Full-stack is a term used to describe a developer who is able to design, code, implement and maintain an interactive website on their own.
This involves writing the code for the front end, which is the code the user sees in the browser, and also involves writing the code for the back end, which is the server, database and application that packages the user-customized information code, which is sent to the front-end for display.
"This program was created by developers for developers, as well as for those who want to become developers," said Mary Dobransky, dean of the College of Science and Technology. "The program is modern, robust, challenging, demanding and exciting. Those who complete it will be well-prepared for successful careers as full-stack developers."
Bellevue University's web development bachelor's degree program grew from a Bellevue University advisory board recommendation in November 2016.
The need for this program was driven partly by rapid growth. The U.S. Department of Labor Bureau of Labor Statistics forecast that employment of web developers will grow 15 percent from 2016 to 2026, much faster than the average for all occupations.
According to the Nebraska Department of Labor (NEworks), in August 2018 there were 72 job openings for web developers in the state – 49 in Douglas and Sarpy Counties – with a mean wage of $85,146.
Per their own experience, web developers and leaders from several industries advised the board that a web developer needs to be able to demonstrate proficiency with the full-stack applied learning.
"Traditionally, there are front-end developers and back-end developers, but few developers who are skilled in development across the entire stack," said Richard Krasso, assistant professor and web development program director. "This program provides a deep dive into full-stack development – front end, back end, database, APIs, etc.
Web developers also advised that the industry needed developers proficient in JavaScript and AngularJS languages – but there wasn't a program in existence that covered all of this in one compact degree.
Bellevue University saw this opportunity and eagerly started a degree program in September 2017, and that cohort – or group of students who go through the whole sequence of classes together – is in its last class and will complete the program in November.
Since then, two other cohort groups (including Brown's) have started the program, and coming cohorts will begin in November 2018 and March of 2019. Because of its fast pace, students can complete the major in six sets of courses of nine weeks each.
"Students have varying backgrounds," said Assistant Dean Jim Lewis. "Some have no coding or IT experience, and some have a lot of coding experience. The program is designed for anyone with an interest in web development to be able to succeed."
["source=gsmarena"]